Along with unmatched ergonomics, reliability and safety, B2scan 6080S introscopes provide excellent image quality and improved material classification. Introscope B2scan 6080S has the function of automatic detection of explosives and drugs.
Automatic detection of explosives / drugs and alerts
Improved classification of materials: orange – organic, blue – metals, green – mixed materials.

Download file
Technological peculiarities

:
High image quality with 40 AWG wire resolutionand the penetrating power of steel 34 mm.
The X-ray dose rate around the equipment is close to the natural background level, which corresponds to all applicable international health standards and occupational safety.
Automatic detection of explosives /drugs.
TIP(projection of the image of dangerous objects) is a very effective way to train operators and control their work.
Functional stepwise, continuousand local scaling provides convenient and quick magnification of the resulting image.
The resulting images can be saved in common formats (BMP, JPG, PNG) and transfer to an external USB drive.
The ergonomic design of the keyboard and user interface ensures effective and professional work of X-ray television introscope.
The modular design, combined with built-in diagnostics, ensures efficient maintenance of the equipment.
Data transmission over a local network using the TCP / IP family of protocols.
Information exchange with the system of collecting results of technical monitoring and controlusing a unified data transfer protocol andan XML-based metadata.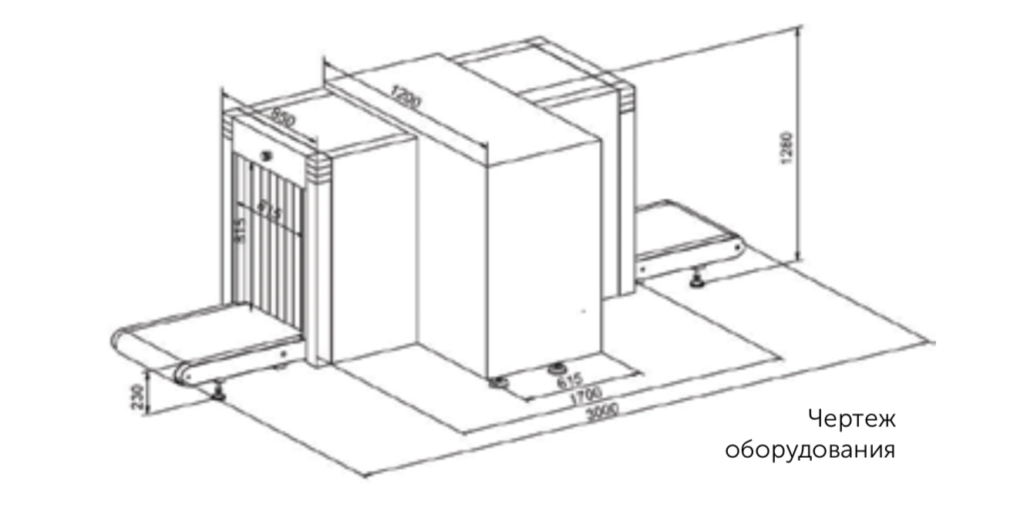 General specifications
Operating characteristic

Tunnel dimensions

615 mm (W) ×815 mm (H)

Wire Resolution

40 AWG / 0,08 mm

Conveyor speed

0,2 m/s

Steel penetration

34 mm

Conveyor height

230mm

X-ray dose during the inspection

less than 2 mSv

Maximum load capacity
200 kg with an even distribution

Monitor

LCD, 21.5 inches, high resolution

1920×1080

Anode voltage

160 kW

Image processing system
Health and safety

Image processing functions

Color / BW image, organic / inorganic removal, change in absorption level, super-enhancement, negative image, high / low penetration, pseudocolor, etc.

X-ray dose rate

Less than 1 mSv /h (5 cm from the body)

meets all applicable international standards

Material classification (by color)

Organic: orange, inorganic: blue, mixtures and light metals: green

Safety for photographic films

Guaranteed for highly sensitive film up to ASA/ISO 1600 (33DIN)

Scaling

Selectable image scaling areas, magnification 1 ~ 64 times

installation data

Image return
Viewing previous images

Dimensions/weight

3000 mm (L) × 1200 mm(W) ×

1280 mm (H) / 750 kg

Memory capacity
Up to 100 000images
Storage temperature
-40°C~+60°C

Additional functions

Date / time display, baggage counter, transaction log, user management, System-on/X-ray-on timers / Power-on self-test, built-in diagnostics tools, bi-directional scanning, image recognition training
Operating temperature range

0°C~+40°C

Humidity

5%~95% non-condensing

Power supplies

AC power

220В(-15%~+10%),

50 Hz / 60 Hz ± 3 Hz

Power consumption

0.5 kVA
The equipment has passed compulsory and voluntary certification applicable on the Russian Federation territory. Technical parameters and complete set of goods are subject to change without notice.